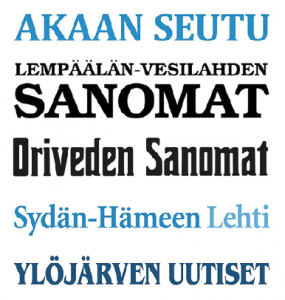 Pirmediat Oy newspaper group goes live with Scoop 7 PageTrack in July 2020. The system is used by 5 weekly newspapers, Akaan Seutu, Lempäälän-Vesilahden Sanomat, Oriveden Sanomat, Sydän-Hämeen Lehti and Ylöjärven uutiset.
"Our magazines are the number one media in their publishing areas, offering their readers unique local content. For advertisers, our magazines offer a direct route to the morning coffee tables of local and high-purchasing consumer groups, both online and in print."
All Scoop 7 PageTrack user are served by one Intel NUC Linux server, so it is a very cost effective content handling system. The latency varies depending on different local internet connections, but all are able to work and produce their newspapers remotely.
All ad flow and internal ad production into print pages are controlled with Adwizard and InDesign. The ad flow is integrated with their "Taikatilaus" ad system.
Scoop 7 now have has 13 newspapers using either the whole system or parts of it.