Scoop Publishware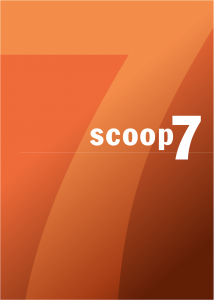 Scoop is a editorial system that is very easy to learn and but still powerful to produce and handle content with both on Print and Digital channels. A well powered technical and modular system solution for packaging and format your content. This system is really cost effective and it´s easy to build workflows that suits your needs.
ScoopEdit
is a newsroom workflow and content management system. It organises and facilitates access to baskets, assignments, stories, article update history and other editorial essentials. Writers, photographers, paginators, editors and managers can easily access, create, edit and move articles. Articles can be provided with fact boxes, and attached images are easily placed on to the InDesign documents. You can also manage most of your Online publishing directly from here. Optionally Adobe InCopy or InDesign can be used as text editor.
PageTrack
PageTrack is the newsroom's monitoring and supervision tool. Via a web browser the user gets an overview of all pages in a selected product. The information is displayed in a list or as page images. For each page, you see current status, who is editing, deadline and which articles and images are placed on that page. When a DTP document is saved, the web view with all information is updated.
As an option we offer different integrations with your ad system. Ads can then be placed on their destination pages half-manually or automatically, and the current ad status is displayed.
Product Manager
Centralized product handling, creating of InDesign documents and production overview. Includes configuring product templates, creating and updating products. A template is set up or adjusted, information is retrieved from the advertising system, and based on this template, the product can be planned. You decide the number of pages. Each page belongs to an edition and pages can be added or removed.
Database Manager
Centralized control over the configuration of the majority of the system.
Includes configuring Users, Groups, Baskets, and Styles in place… and so much more!
We can even import styles from InDesign now!
Content Manager
Schedule, Importing, exporting, moving, converting and cleaning of content. Using Event driven tasks, Watched folders for instant actions, Receive emails and convert them to an articles, exchange material from and to most CMS's.
eLibrary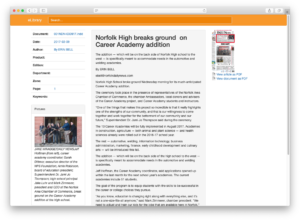 eLibrary archives your content as it was published in the print. Web-based searches, both simple and advanced, provide complete results including article text, graphics, low-res images and also with both article- and page-PDF documents.
Plan First
"Planning is the easiest way of increasing quality of journalism."
PLAN FIRST is a planning tool designed by journalists to journalists. With Plan First you can make, change and share plans for multiple channels, between media houses, journalists and freelancers. You can manage ongoing deadlines and digital workflows, maximize efficiency with re-use of content and co-operation, and maybe most important, work digital first but without neglecting print.
Plan First's main task is to support todays multichanneling and multiple tasking work, including features as: • Make and change plans for multiple channels • Share plans between channels, media houses, journalists • Manage ongoing deadlines and digital workflow • Maximize efficiency with re-use of content and co-operation • Work digital first but without neglecting print • Handle to-do's for a team or just yourself • Analyze production and set goals • Daily, weekly and long-term planning • Easy to learn, Intuitive UI, drag and drop • Use with any device anywhere • Manage calendar and task lists • Built-in analytics • Can be tailored to different user needs and roles • Unlimited number of users, no license fees • SAAS, monthly charge based on the number of channels • Rest API for easy integrations
Adwizard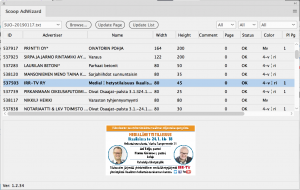 The most affordable Ad handling tool on the market? Whether you have an ad booking system or just keep a list in Excel or any kind of program that outputs tab-separated text fi les, AdWizard let's you produce and place ads on the fl y to newspapers and magazines. It's integrated with InDesign and via your outputted ad fi le with your ad booking system. It automatically keeps track of ads that are produced, so that you don't miss at the end of the day. Simple, easy to use and very aff ordable.
ePaper Ezy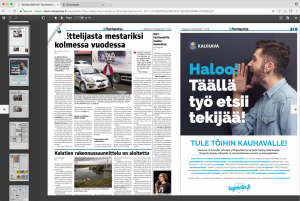 ePaper eZy is a very simple tool for publishing your newspaper online. No extras, no bells an whistles. Just a online version of your print publication, and for nearly all devices. All you need is your print PDF:s, Adobe Acrobat Pro and a FTP program for sending the fi les. We take care of the rest.
Webparser for online CMS
WebParser integrates the Scoop 7 editorial system with online CMS (WordPress and others). Categories, keywords, links, styles, image carousels, identification of registered system users are all handled by WebParser over to the CMS.
You can also publish, update, remove content on you website directly from the Scoop Edit client. If you you choose to edit (enrichen) your article in the web CMS, you can configure Scoop not to update the article.
InDesign plugins

We provide a handful of plug-ins that connects and integrates Scoop to InDesign. We try to keep up with Adobes CC upgrade pace, but primarily we support "odd numbered" versions, 2017, 2019, 2021 and so on., but of course, on demand we can also produce them for other newer version.
The plug-ins are:
Phil
Increase user subscription by allowing your users to follow a specific subject-matter, resulting in either a mobile push or e-mail alert.
PTrack
Connects InDesign with PageTrack.
SCArch
Our eLibrary archive needs output for InDesign For archiving.
SCAdmin
Based on the user's profile, Magnet curates a personalized newsletter using 16 A.I.-based algorithms.
SCImp
Use magnet's automatically generated meta tags and content description to improve your site's SEO.
SCInAd for advertising systems
Plug-in for integrating PageTrack with your ad system. Product Manager reads the amount of pages planned in your ad system and outputs them to PageTrack.Atex Cross-Ad, Naviga Adbase, SCS Layout 8000 rofiles users based on the content they consume overtime and accordingly makes contextual and personalized recommendations.
SCJump
Allow your readers to view the most important named topics and to navigate to topic-related content.
SCTBoxUI
Magnet profiles users based on the content they consume overtime and accordingly makes contextual and personalized recommendations.
SCToolbox
Allow your readers to view the most important named topics and to navigate to topic-related content.
Scoop 
Increase user subscription by allowing your users to follow the development of any story and receive notifications/emails when new related articles are published.
Pagetrack 2 - Browser based content management
We are working on a new version of PageTrack. Plan and organize your content with drag & drop. Use Scoop 7 editorial system or use any standard editor to create content.
Let the NewPageTrack handle the content and products. Ask about a demo.