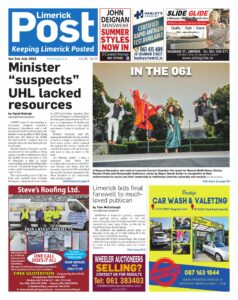 The Limerick Post uses the Scoop 7 module PageTrack to handle the print production. A easy to use module that provides a total overview of your editorial product at a glance. Live thumbnails, previews and page status indicators offer information on each editorial page during the pagination process, updated in real time.
The Limerick Post weekly newspaper is distributed throughout Limerick City and County in the region of Munster.
It is considered Limerick's most popular newspaper with a circulation of over 47,926 copies per week and an estimated readership of 238,500.
"Our trendy tabloid has a reputation for offering clients a full range of promotional tools that includes editorial, advertising, online, mail-shots and photographic back up.
In contrast to other newspapers circulated in the region, the Limerick Post's distribution is not only greater and far more effective, but it also achieves greater coverage than the combined total of all national and regional newspapers in the region.
This is due in part to recent circulation trends of the younger readers preferring a local newspaper to that of a national."