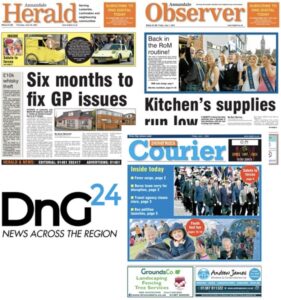 DNG Media is an independent publisher based in Dumfries and Galloway with three weekly newspapers, a website and a range of specialist publications. The paid for print titles are the Annandale Herald and the Annandale Observer. There is also the Dumfries Courier, a freesheet which is distributed through pick up points.
General news, sports and features are the mainstay of the titles and the newspapers have a hyperlocal stance and are focused on community life in their local areas. Editorially, the papers takes an independent political stance and ensures all the political parties and local representatives are included regularly. The circulation area covers over half of Dumfries and Galloway and also includes parts of north Cumbria and the Scottish Borders. However, the main focus is on eastern Dumfries and Galloway, around the towns of Dumfries, Annan, Lockerbie, Lochmaben and Langholm and their rural hinterlands. All newspapers date from the 19th century and have a large readership of varied ages.
DNG24 is the website and it specialises in carrying the main stories and breaking news from around the whole region. There are also sports sections, features, weather and travel information. It transcends the circulation area of the print titles, extending out to Stranraer in the far west of the county.
All the content, for the print titles and website, is created and edited at our headquarters in Annan by the newsroom team, comprising the editor, associate editor, chief reporter and staff reporters.
There is a staff photographer but freelancers are also used for pictures and some copy, namely farming and courts. Readers also submit some content, reports, columns and letters.
DNG Media has been running Scoop 7 since 2020.